Book and CD by Frank Edgley, 2001
(text below provided by Frank Edgley)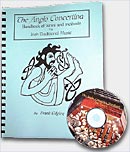 Frank Edgley is a concertina player with over twenty years experience, and anglo concertina builder. He has played at several festivals in North America and has performed in duet with Chris Droney at the Mrs. Crotty Festival in Kilrush, County Clare. Before that, he led the Scottish Society of Windsor Pipe band to several North American Championships. This experience with Celtic music has given him an understanding of the music.
He has just produced a new concertina tutor called "THE ANGLO CONCERTINA, A Handbook of tunes and Methods for Irish Traditional Music." A 73 minute instructional CD is included with the book. It takes players or aspiring players from the basics to fairly complex embellishments and variations. Embellishments are explained and played slowly on the CD. Contents of the CD directly relate to the text. There is a collection of jigs, reels, hornpipes, slides, polkas, airs and marches that has been selected to be "concertina friendly". Several tunes have been broken down to present embellishments and variations.
For information on ordering, prices, etc., e-mail Frank at edgley@concertinas.ca , or fedgley@cogeco.ca